Sort-Cam - the describing camera
Details

Veröffentlicht: Donnerstag, 11. Dezember 2014 13:01
img27345.jpg doesn´t ring a bell? 
Sort-Cam helps you to label your pictures plausibly while taking them, thus preventing trouble and chaos afterwards.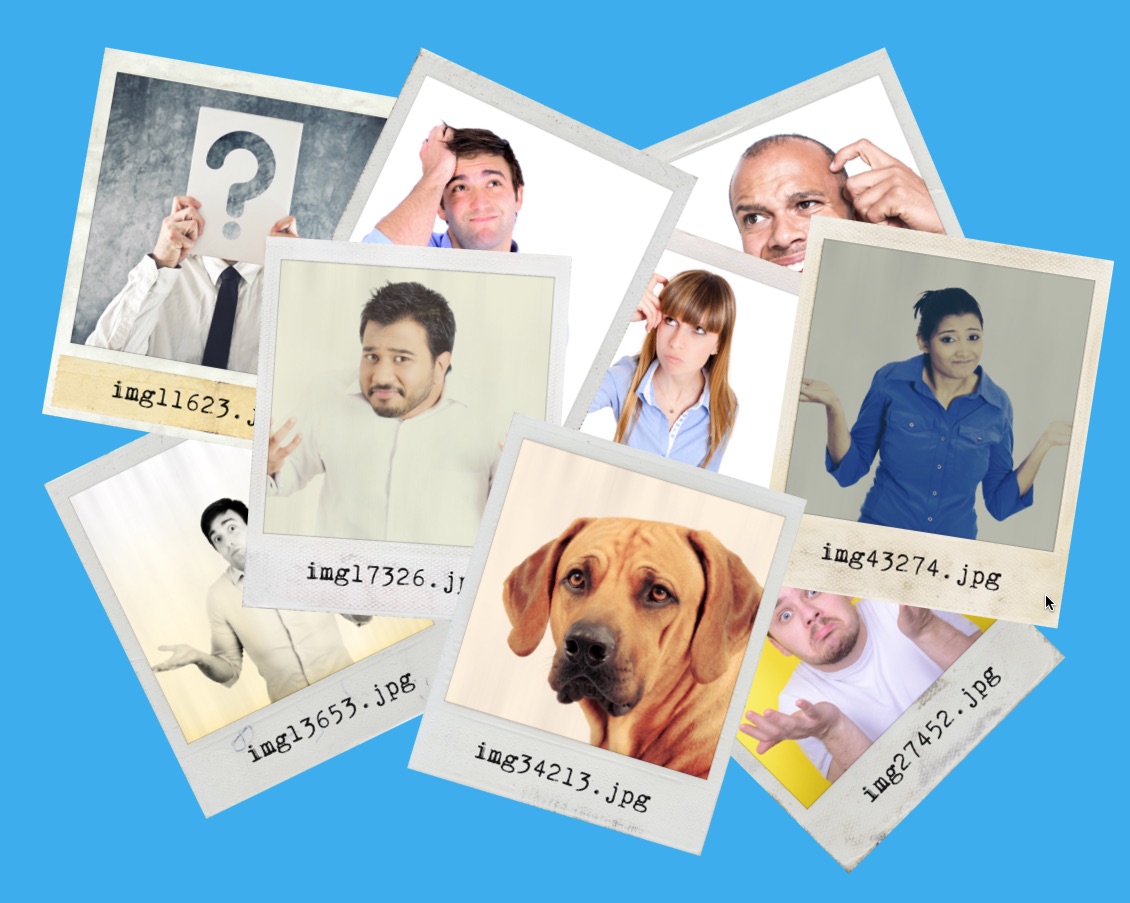 With Sort-Cam you´ll change img43274.jpg into a significant Ms_Miller.jpg

This app* doesn´t name photos according to the familiar pattern with a serial number, but with a text defined by you, and with date or time additionally. In this way, instead of IMG.27354.JPG you´ll have a telling name like (for a construction company) Jones_facade_001.JPG, or (in real estate) Jones_livingroom_001.JPG. You can then file these photos or forward them to a colleague without having to open and view them again. This spares the trouble of having to find captions for your pictures later on. That can be a considerable advantage, especially if you have a larger number of similar photos, or if the labeling of the pictures is done much later. In addition to that, the check list trait of the app helps you to recognize which pictures are still wanting – in case you need them, e.g. for customer documentation.
Savings / Advantages
Practically no more time needed to file / label photos
Checklist minimizes journeys
Acquirable from Google Playstore
Automatic updates via Google Playstore
(Pro) Transfer of photos via UMTS / WIFI – no need to go to the office to hand over the photos
(Pro) Quick availability of the photos
(Pro) Less danger of loss in case of camera / memory card damage, since photos are transferred immediately
(Pro) No costs per camera / mobile phone and no separate bills in Google Playstore
(Pro) Easy to configurate by QR code (especially easy with many cameras)
Please consider that this app is available only for Android-OS and therefore just works for smartphones, tablets and cameras with Android-OS. Special Android cameras (with zoom) are about € 100 - € 200 more expensive than "normal" cameras. The quality of normal Point & Shoot  cameras is definitely matched by Samsung and Panasonic Android cameras and will suffice in most cases. For most purposes, state-of-the-art Smartphones are probably good enough.
Versions
 Project Companion (Pro)

SortCam (Standard)

SortCam (Demo)

Labels photos according to projects and categories
Categories as checklist
Choose your own index
Date and time in file name (definable per category)
Different lists of categories for different projects
Scan configuration (FTP server) via QR code (no laborious typing of access data)
FTP import for project list and categories
FTP export for photos

This version is configured for you and integrated into a – possibly existing – project management tool. You can then export projects / places / customers from your tool and link them with various lists of categories. You can determine, for instance, that with customer Jones, who owns a house, different categories are shown than with customer Smith, who owns a flat. The app recognizes the customer when submitting and shows the relevant categories.

Labels photos according to projects and categories
Categories as checklist
Choose your own index
Date und time in file name
Scan configuration (categories) via QR code or create and change in text editor
Limited to 20 categories

Like standard version, but limited to 4 symbols (markers) for projects and categories and to 4 categories

Before purchasing the app, please use this version to test whether your hardware is compatible with it and whether it suits your needs!
Operating and Information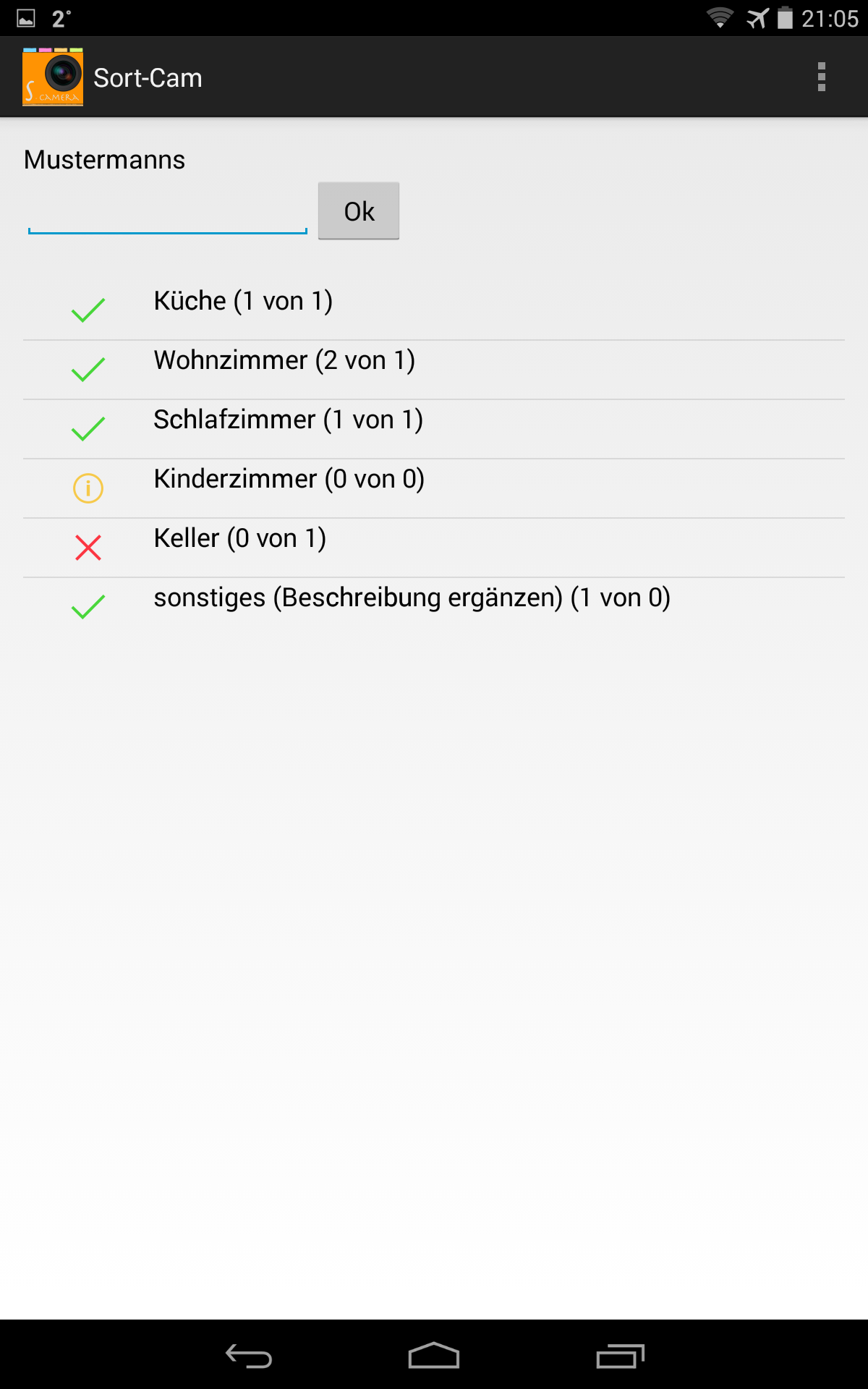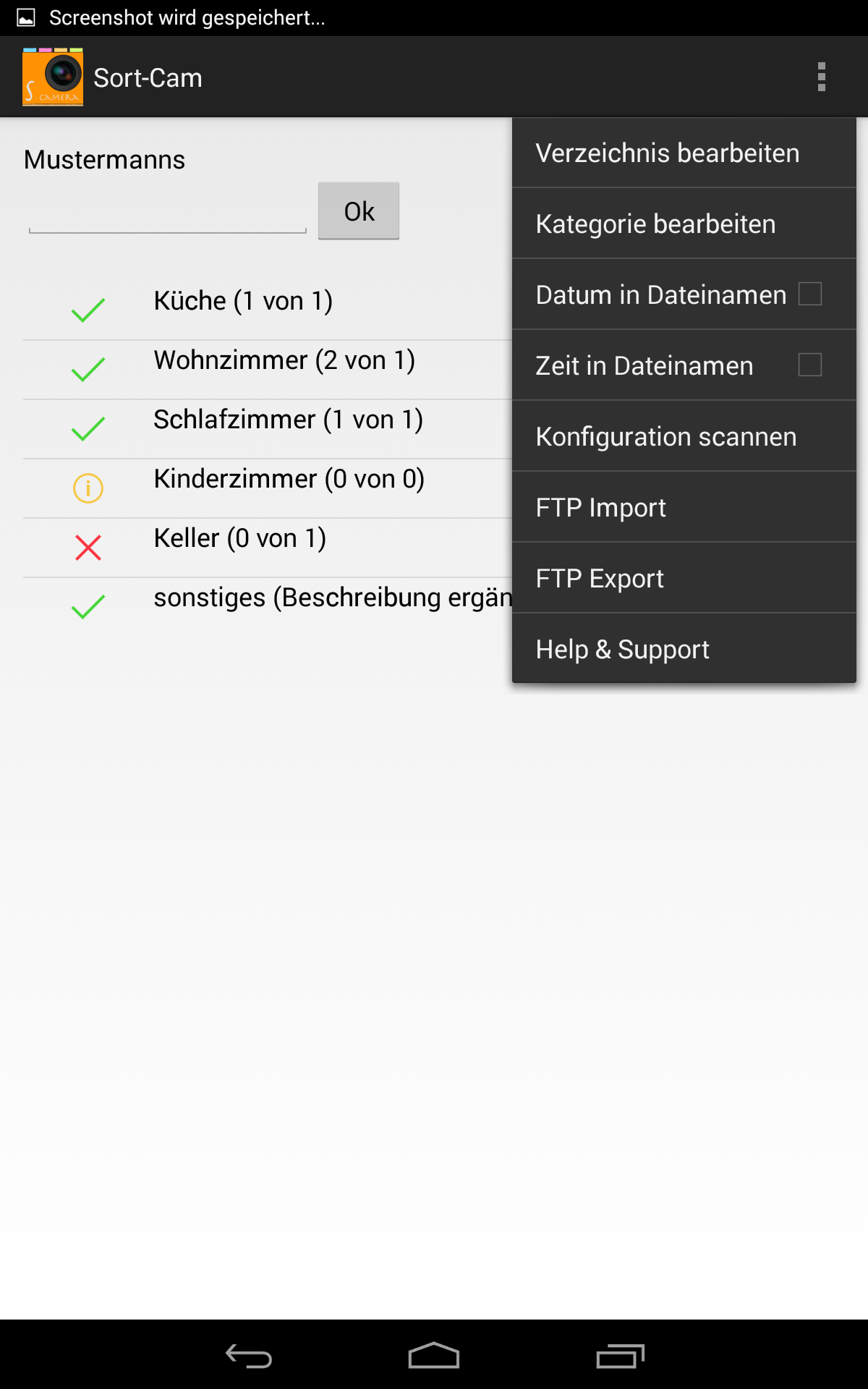 With a click on the category (e.g. Living room) the camera is started and the photo is saved with its relevant name.
(Sample) configurations for the standard variant
Click on the QR code, so that it is shown in a new window. Edit in the app (Standard and Demo) in the menu under Category, then go to QR code and scan in the QR code.
Wohnungsmakler

Bestandsaufnahme

Polizei

Unfallaufnahme

Werkstätten

Kundendokumentation
You can create QR codes for your own projects with any QR code generator (e.g. http://www.qrcode-generator.de) by producing categories as text according to the following example and editing this text as QR code.
To do so, indicate (per category in an individual line, separated by a semi-colon
Term in your file name
Number of photos (O for optional)
Addition necessary (yes/no – if yes, a dialogue with the file name is indicated)
Term in the display
Example real estate agent:
General chart;1;no;general chart; (list)
Kitchen;1;no;kitchen;
Living room;1;no;living room;
Bedroom;1;no;bedroom;
Children´s room;0;no;children´s room;
Office;0;no;office or workspace;
Basement;0;no;basement (compartment);
Attic;0;no;attic;
Others;0;yes;others (fill in description)
Help and Contact
Should there be any questions or special requests or ideas, don´t hesitate to Diese E-Mail-Adresse ist vor Spambots geschützt! Zur Anzeige muss JavaScript eingeschaltet sein! me – and together we will find a solution.
* at present for Android from version 4.0 and newer